Shades are exiles, scions of a noble line ousted from the jagged towers of Clar Karond. They haunt the wilderness of the Blackspine Mountains like vengeful ghosts, preying on all who enter their domain. If the moment – or the price – is right, Shades will sometimes accompany dark elf armies to war. Some travel even further afield, bringing their murderous skill to distant shores in exchange for gold or vicarious thrill.
In the aftermath of Ubersreik, Kerillian's dreams were a jumbled cacophony, and one of the most lucid visions spoke of an ancestor who bore the exiled blood of Clar Karond. The dreams did not emphasise the future, but here and now. Through the mists of memory, a cruel voice spoke, urging her to reclaim the mantle of her forebear. Her count continues, but in glory, not in penance.
As a Shade, Kerillian treads an assassin's path, striking unaware or distracted foes when they are most vulnerable to her wicked blades. She is fleet-footed death, come to claim the blood of the living.
- Vermintide 2 Official Website
Shade
Details

Passives

Murderous Prowess

Ability

Infiltrate

Cooldown

1:00

Hit Points

100
Shade is one of the four Careers from which Kerillian can choose.
This career is unlocked at level 12, after Waystalker and Handmaiden.
Description
[
]
As the pain of exile continues to fester within Kerillian, a new voice introduced itself in hushed tones in her dreams. The whispers promised purpose and meaning and Kerillian, being sick to death of the world of men, listened. The voice belonged to Khaine, the God of War and Murder. Having accepted to heed his call, Kerillian embarked on a sinister journey to find her true self.
In battle, the Shade is a master of stealth, a deadly assassin striking from the dark, able to outmaneuver any foe with fleet-footed movement and otherworldly agility. Devoted to her new faith, the Shade prefers weapons favored by Khaine to do her bloody work.
Skills and Traits
[
]
Ability
Description

Infiltrate

Career Skill

Kerillian becomes undetectable and can pass through enemies. Lasts for 5 seconds, or until she Attacks.
The first successful attack breaks the stealth. If it is a melee strike, it is guaranteed to be a critical hit and also benefits from a massive bonus damage multiplier.

Murderous Prowess

Passive Ability

Critical hit backstabs instantly slay Man-Sized enemies.

Assassin's Blade

Passive Ability

50% additional damage when attacking enemies with melee attacks from behind.

Grim Fortune (unlisted)

Passive Ability

Increases critical strike chance by 5%.
Weapons
[
]
Talents
[
]
You may select one talent from each tier and change them freely in Taal's Horn Keep.
Level 5

Bleak Vigour

Khaine's Thirst

Blood Kin

Melee critical strikes and headshots grant 2 Temporary Health. Critical headshots restores twice as much.
Melee killing blows grants temporary health based on the health of the slain enemy.
Healing yourself with a First Aid Kit or a Healing Draught also heals your nearby allies for 20% of their maximum health. Removes any Wounds.
Level 10

Cruelty

Exploit Weakness

Exquisite Huntress

Increases critical strike damage bonus by 50%.
Increases damage by 20% to poisoned or bleeding enemies.
Headshots increases headshot damage bonus by 10% for 5 seconds. Stacks up to 10 times.
Level 15

Smiter

Assassin

Enhanced Power

The first enemy hit always counts as staggered.

Deal 20% more damage to staggered enemies. Each hit against a staggered enemy adds another count of stagger. Bonus damage is increased to 40% against enemies afflicted by more than one stagger effect.

Deal 40% more damage to staggered enemies. Each hit against a staggered enemy adds another count of stagger. Headshots and critical hits instead inflict 40% bonus damage, as do strikes against enemies afflicted by more than one stagger effect.
Increases total Power Level by 7.5%. This is calculated before other buffs are applied.
Level 20

Ereth Khial's Herald

Vanish

Bloodfletcher

Assassin's Blade is increased to 75% additional damage when attacking enemies from behind.
Killing an enemy with a backstab grants stealth for 3 seconds.
Backstabs return 1 bolt or arrow. (2 second internal cooldown)
Level 25

Blood Drinker

Spring-Heeled Assassin

Gladerunner

Critical hits reduces damage taken by 20% for 5 seconds.
Critical hits increases movement speed by 20% for 5 seconds.
Increases movement speed by 10%.
Level 30

Cloak of Mist

Shadowstep

Cloak of Pain

Infiltrate cooldown reduced by 45%. After leaving stealth gains 100% melee critical strike chance for 4 seconds. No longer grants a damage bonus on attacking.
Infiltrate causes Kerillian to blink forward, passing through enemies.
Hitting an enemy while under the effect of Infiltrate does not break stealth. Second attack does not grant bonus damage. Can only trigger once.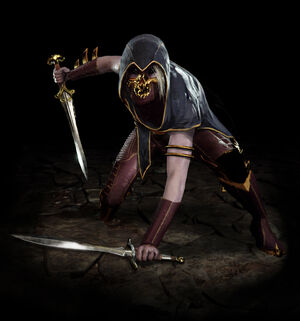 Notes
[
]
If Kerillian attacks an enemy to get out of stealth with Infiltrate, she will inflict 10 to 22 times the regular damage of this weapon. The bonus depends on the nature of the weapon, with Dual Daggers having the highest bonus. Charging the attack will as usual double the damage done, leading to potentially 44 times the weapon's regular damage.