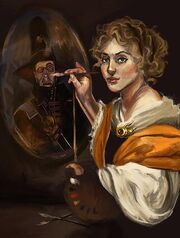 Catrinne of Aldenstein is an artist and elusive occupant of Taal's Horn Keep.
She has yet to make her appearance known but can often be heard shouting down from the rafters in conversation with Franz Lohner.
She seems to carry a torch for Victor Saltzpyre, and Bardin Goreksson apparently finds her paintbrushes delicious.
Trivia
[
]
Catrinne is also voiced by Alix Wilton Regan, Kerillian's voice actor.
There is a hidden entrance to her sleeping quarters behind Franz Lohner's Emporium of Wonders.